Dads are the unsung heroes of the family. They work hard to provide for their loved ones and are always there to lend a helping hand. But sometimes, it can be hard to find the perfect way to show your appreciation for all that Dad does. That's why we've put together a list of 103+ great T-shirt Slogans for Dads. Whether you're looking for something funny, sentimental, or just plain stylish, you're sure to find the perfect design in our collection. So show your dad some love this Father's Day with a shirt that celebrates everything he does for you!
Important Factors to Write T-shirt Slogans for Dads
Here are 7 steps to follow when writing a wildlife t-shirt slogan for your dad:
Keep it short and sweet- Dads are busy people, so make sure your slogan is concise and to the point.
Use humor- A little bit of dad humor can go a long way in making your slogan memorable.
Use puns- Puns are always a Dad favorite, so try to work one into your slogan if you can.
Be creative- Think outside the box and come up with something truly unique.
Be relevant- Make sure your slogan is relevant to the print on the shirt or the design of the shirt itself.
Be eye-catching- Use bright colors or bold font to make sure your slogan stands out.
Have fun!- Writing t-shirt slogan for your dad should be fun, so make sure to enjoy the process.
Slogan about t shirt for dad
The best dads get promoted to grandpas"
"I'm a proud daddy's girl"
" papa bear "
"Superdad!"
" World's Greatest Farter, I Mean Father "
"I Have The Best Daddy In The World "
"Daddys Little Princess "
"Handsome Like My Daddy "
"My Dad Is My Hero "
"I Love You Daddy "
"I Still Sleep With My Daddy "
" No One Messes With My Dad "
" Property Of My Daddy "
"This Guy Is Taken By The Best Girl In The World – His Daughter "
"I Asked God For A Best Friend He Sent Me My Dad "
"Dads Hold Our Hands For A Little While But They Hold Our Hearts Forever "- Unknown
For more: 115+ Creative T-shirt Slogans for Kids Examples & Suggestions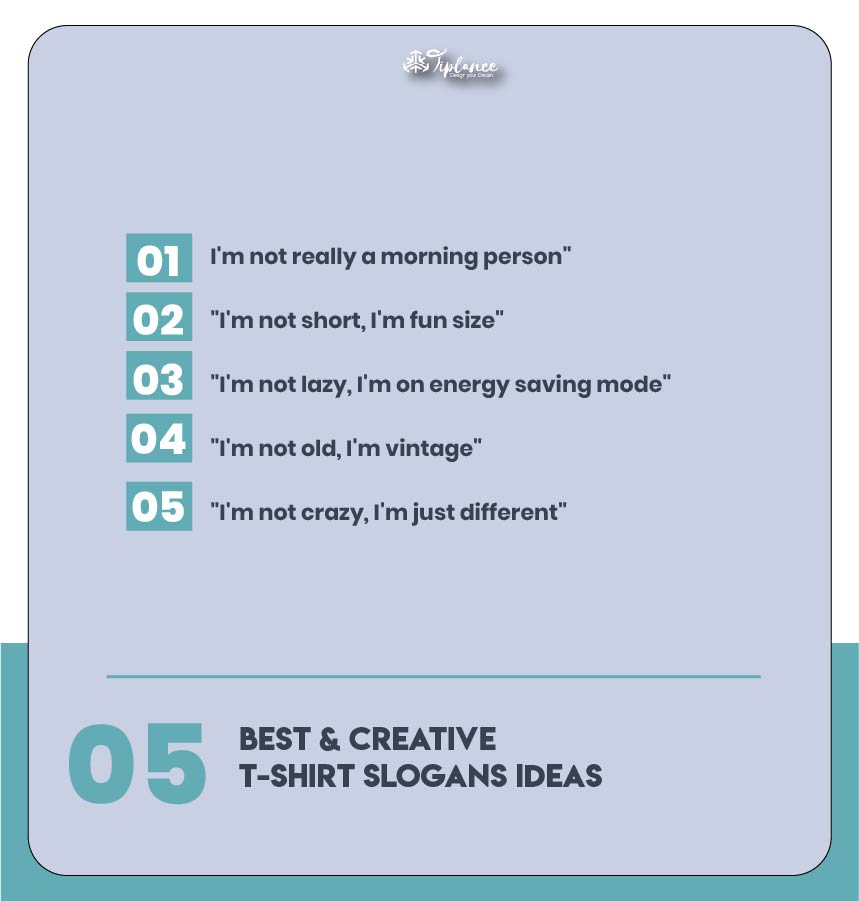 Dad t shirt slogan ideas
"Best. Dad. Ever."
"I'm a Proud Dad of a Wonderful Daughter"
"I'm a Proud Dad of an Awesome Son"
"I'm a Proud Grandpa"
"I'm the Coolest Dad Ever"
"My Favorite People Call Me Papa"
"Awesome Dads Get Promoted to Grandpa"
"Dads Are Like Chocolate Chip Cookies…Sweet and Irresistible!"
"Don't Mess with My Daughter"
"I Raised Myself (With a Little Help From My Dad)"
"The Greatest Dads Deserve the Greatest Kids"
"Dads Hold Our Hands for Only A Little While…
"But They Hold Our Hearts Forever"
"Daddys Little Princess"
"My Hero Wears Camo"
For more: 101+ Attractive Girl Scout Slogans & Tagline ideas
Dad t shirt tagline
"My dad can do anything!"
"I'm the best looking dad in the world!"
"My dad is my hero!"
"I love my dad!"
"World's greatest dad!"
"I'm so lucky to have such a great dad!"
"Thank you, dad, for everything!"
"Dad, you're the best!"
"Happy Father's Day!"
"I wouldn't be who I am without you, dad."
"You're the best role model I could ask for."
"No one can ever take your place." Remove this one – not veryoriginal .
"Thank you for being here for me."
'Teach me everything you know."
'I learn from the best – my dad!'
'I want to be just like you when I grow up!
'You set the bar high for everyone else.
'You always know what to say.
'You make me laugh.
'You're one of a kind and I love you for it.'We hope you enjoyed our list of father's day t-shirt slogans
For more: 115+ Catchy Hockey Slogans Taglines & Ideas
Catchy slogan on dad t shirt
dad, the man, the myth, the legend
without dad, we wouldn't be here
proudest moments start with dad
dad, my first hero
thank you for always being there for me, dad
for the man who has everything, except a dad t shirt!
best. dad. ever.
world's greatest/best/awesome dad
I'm a proud/lucky son/daughter of (enter name of great dad)
thanks for putting up with me, dad!
happy father's day to the bestdad!
to the world's best father-in-law!
I owe it all to my dad
"I'm not saying I'm perfect but I'm a perfect fit for this shirt" – Unknown
"Dads are most ordinary men turned by love into heroes, adventurers and storytellers" – Pam Brown
"My father gave me the greatest gift anyone could give another person…He believed in me" – Jim Valvano
"A father is neither an anchor to hold us back nor a sail to take us there but a guiding light whose love shows us the way" – Unknown
"To her the name of father was another name for love" – Fanny Fern
"A good father is one of the most unsung unsung heroes in our society"
"It's only when you grow up and step back from him
Importance of Having Good T-shirt Slogans for Dads
Dads play an important role in their families' lives. They are the ones who teach their children how to ride a bike, throw a baseball, and change a tire. They are also the ones who are there to offer advice, support, and encouragement.
A great way for dads to show their love and support for their families is to wear T-shirt Slogans for Dads that reflect their family's values. T-shirt slogans for dads can be both fun and meaningful. They can show dad's sense of humor, or they can be used to express dad's love and pride for his family.
Additionally, wearing T-shirt Slogans for Dads can be a great way for dads to start conversations with other parents about important topics such as parenting, education, and family life. Whatever the message, T-shirt slogans for dads can be a great way to show support for the family.
Conclusion
The slogan "World's Best Dad" is a great example of a phrase that could be used on a t-shirt for Father's Day. It is simple, yet memorable and meaningful. If you are looking for a slogan to use on your dad's t-shirt this year, we hope that our list of slogans has given you some ideas. Whether you choose one of the slogans from our list or come up with your own, we wish you and your dad a happy Father's Day! As always, if you need help with anything, don't hesitate to reach out to us. We're here to help you