Slogans are a very useful tool when it comes to promoting dental care, as they can be eye-catching and memorable. A good slogan can help to raise awareness of the importance of dental care, and encourage people to take steps to protect their teeth and gums. Slogans can also be used to promote specific dental care products or services, and to encourage people to visit their dentist regularly.
In short, slogans can be a valuable way of getting people to think about their oral health, and taking action to improve it. So next time you see a catchy slogan on dental care, take a moment to think about what it is trying to tell you, and how you can put its message into practice.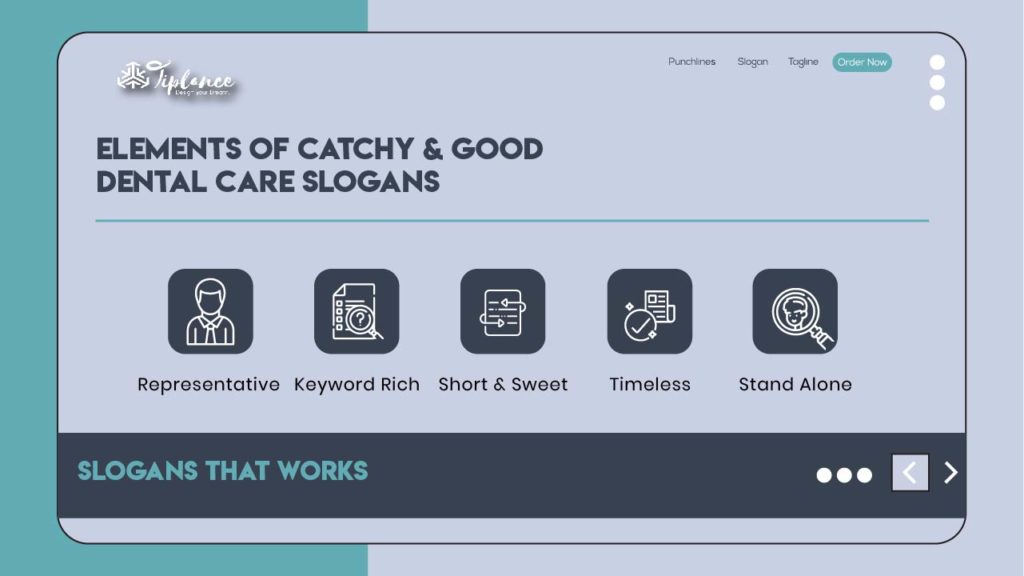 Important Factors to Write Slogans On Dental Care
Dental care is important for so many reasons! For one, it helps to prevent tooth decay and gum disease, which can lead to a whole host of other health problems. It's also important for maintaining a bright, white smile. And let's be honest – who doesn't want to have a beautiful smile? But with so many products on the market, it can be tough to know which one is right for you. That's where slogans come in! A well-written slogan can help you to communicate the benefits of a product or service in a clear and concise way. Here are 5 important factors to consider when writing slogans for dental care:
Keep it short and sweet: A slogan should be easy to remember, so keep it short and sweet. Aim for around 5-7 words.
Use strong keywords: Choose words that pack a punch, such as "whitening", "protection", and "cavity-free".
Make it catchy: A good slogan should be catchy and memorable. Use rhyme, alliteration, or puns to make it stick in people's minds.
Communicate benefits: A good slogan will clearly communicate the benefits of the product or service. What will dental care do for the customer?
Use simple language: Slogans should be easy to understand, so use simple language that everyone can follow. Avoid jargon or technical terms.
Dental clinic slogan
A visit to the dentist can be a daunting experience for many people. However, it is important to remember that regular dental check-ups are vital for maintaining good oral health. To help make the experience more pleasant, here are 25 catchy dental clinic slogans.
We put the "care" in dental care!
We treat you like family.
A healthy mouth is a happy mouth!
We're here to help you smile!
Teeth are our specialty!
For the best teeth in town…
We cater to your every smile need!
Your comfort is our top priority!
Relax, we'll take care of everything!
Sit back and relax, we've got this!
Need a smile makeover? We can help!
Dental health is our concern!
Let us help you achieve your perfect smile!
We're always striving for that perfect smile!
invested in your oral health
"Cleaning your teeth since 1987!"
"The Tooth Doctor Is In"
"We Make You Smile!"
"Whiten Your Teeth Today!"
"A Healthy Smile Begins Here!"
"Let Us Help You Keep Your Smile Bright!"
"Make An Appointment Today!"
"Preventive Care For A Lifetime Of Smiles!"
"Quality Dentistry At An Affordable Price!"
"We Look Forward To Seeing You Soon!"
For More: 109+ Great Life Slogans Examples & Suggestions
Slogan for teeth care
A smile is the best accessory.
Teeth are meant to be flashed, not trashed.
Keep your smile bright and your teeth cleaner than a whitewashed fence.
awesome smiles start with amazing oral care
I brush my teeth nightly so I can wake up and slay
Your smile is your best makeup
Take care of your teeth and they'll take care of you
A beautiful smile begins with healthy teeth and gums
A great smile starts with healthy brushing habits!
You're never fully dressed without a smile
Wear your smile with pride
Always brush and floss before bedtime!
Brushing twice a day is the key to keeping cavities away!
Is your toothbrush smiling back at you? It should be!
Flash those pearly whites!
Every time you brush, you're one step closer to perfect teeth
Keep your smile sparkling!
For a beautiful smile, brush twice a day
Start young, brush often! Healthy habits last a lifetime
Tooth care starts at birth
Good oral health = a winning smile
S-M-I-L-E… it's the key to happiness!
Teeth are important…take care of them!
Brush your teeth like it's your job…because it is!
The mouth is the gatekeeper to the rest of the body…keep it healthy!
For More: 107+ Sodium Element Slogans Taglines & Ideas
Best slogan for dental clinic
A healthy smile starts with us!
No one else will do, we brush your teeth for you!
We make your smile pretty and your teeth feel yummy!
The Tooth Fairy recommends us!
Prevent cavities before they happen!
We give you something to smile about!
For the whitest teeth in town…come see us!
We clean up your smile real nice!
Forget the rest, come to the best!
Where a brighter smile is only a visit away!
Reserve your spot in dental heaven today!
Our state of the art facility is second to none!
Dentistry so good, it's worth smiling about!
Nobody does it better than us!
We'll leave you smiling from ear to ear!
Welcome to dental nirvana.
Come for the pain, stay for thegain.
A beautiful smile is always in style.
Keep your teeth healthy and start smiling more today.
For More: 109+ Catchy Vaccination Slogans Examples & Suggestions
Slogan for dental hygiene
A smile a day keeps the dentist away!
Brush your teeth and floss every day!
Keep your smile shining bright!
Don't be a slacker, brush your teeth!
plaque is wack, so brush your teeth!
Flossing is bossing!
For a winning smile, brush and floss daily!
No one likes a stinky mouth, so brush your teeth!
I brush my teeth twice a day, how about you?
Gingivitis is no fun, so brush and floss every day!
Are you up for the dental hygiene challenge?
Keep your pearly whites looking great!
Make sure to add dental hygiene to your daily routine!
Brushing and flossing is as easy as 1-2-3!
Dental hygiene is key to a healthy lifestyle!
Don't forget to brush those back teeth too!
Spit out the facts: brushing and flossing prevents cavities!
Not sure how to floss? Ask your dentist or hygienist for help!
Getting cavities filled is no fun, so practice good dental hygiene habits!
Need some motivation to brush? Just think of all the money you'll save on dental bills!
It's never too late to start taking care of your teeth!
Good dental hygiene habits start at home
You are never too old/young to take care of your teeth
A beautiful smile starts with taking care of your teeth
Teeth are important, take care of them!"
For More: 109+ Catchy Beauty Slogans Taglines & Ideas
Tagline for dental clinic
A healthy smile starts here!
We're here to help you keep smiling!
Your oral health is our top priority!
Trust your smile to us!
We'll help you achieve the perfect smile!
For beautiful teeth and a healthy mouth!
Teeth have never looked so good!
Let us help you maintain your oral health!
The first step to a beautiful smile!
A healthy mouth is a happy mouth!
We're here to help you get the smile you've always wanted!
Your oral health is our concern!
Beautiful teeth begin here!
Dental health made easy and affordable by experts just for you
The clinic that care about your smile
We'll help you find your perfect smile
Smiles are our specialty
Noone smiles quite like ours
Leaving our smile on yours
A brighter future starts with a brighter smile
Choose us for your next dental procedure
For all of your dental needs
When quality matters most
Making you smile is what we do best!
Importance of Having Good Slogans On Dental Care
A slogan is a phrase that is easy to remember and usually rhymes or has a cadence to it. Slogans are used in advertising as a way to draw attention to a product or company. They are also used to promote ideas, such as political campaigns and social movements. While a slogan can be clever or funny, its main purpose is to be memorable. In the case of dental care, a good slogan can help people remember the importance of taking care of their teeth.
Some well-known dental care slogans include "brush your teeth twice a day," "floss daily," and "see the dentist regularly." While these slogans may seem simplistic, they serve as powerful reminders of the importance of good oral hygiene. By using catchy slogans, dentists can help ensure that their patients maintain good oral health between visits.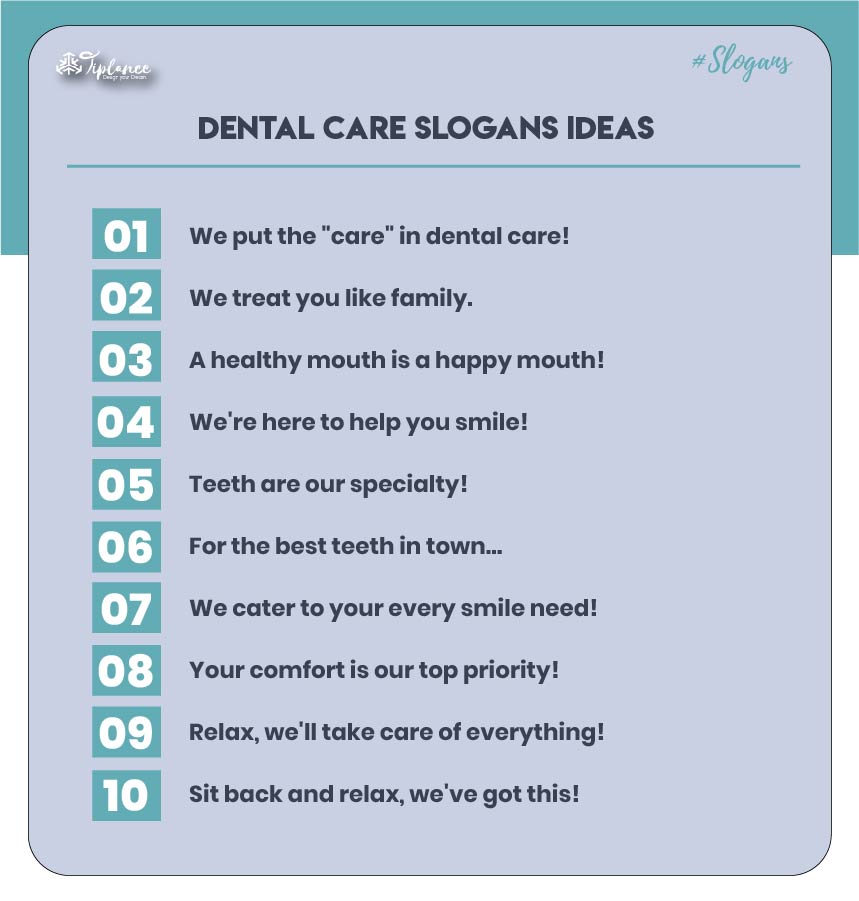 Conclusion
I hope you found this blog helpful. It can be difficult to find information Slogans On Dental Care, but I tried to provide a variety of resources for you. Whether you are looking for general information or specific advice, I think you will find something useful here. If you have any questions or want more help, please don't hesitate to reach out to me. I would be happy to chat with you about your oral health and answer any questions that you may have. Thanks for reading!