Restaurant mission statement conveys your restaurant brand message to your customers that not visit before or not contact your brand before. If you think that Mission statement is not for Restaurants and this is some extra work or money flux. Hang a Second! A good and Clear mission statement expresses your restaurant in a few simple words in simple language. Restaurant mission statement help to stay in pivot point for customers and employers both. Before we move Look What people Think about mission Statement.
The mission statement should guide the culture

Luke Saucier
The Meaning of Mission statement is that coming up with a simple and concise language that describe your service, goals, and target that make your restaurant business more unique and precise.
Every newer restaurant or existing restaurant that wants rebranding their concept. Need a restaurant mission statement first Because.
it forces you to discuss your business.
The mission statement makes your business discussion easier.
Describe the taste and service.
Make you different from others.
A mission statement forces you to focus on one pivot
If you are opening a new restaurant or maybe you are updating your website and use mission statement in your advertising.
For More: 107 Fast Food Restaurant Business name Ideas
how to make a restaurant mission statement.
If you are opening a new restaurant or maybe you are updating your website and use mission statement in your advertising. Before you get started, Take time and think about what your restaurant name means. whats your business means?
4 tricks To Make Powerfull Mission statement.
1.Define Your Restaurant purpose:
Why your Restaurant exists. if it exists to provide quality food then identify how you provide that. what is more valuable to execute your plan. How you deliver and what`s your plan.
For More: 71 Restaurant Slogan or Marketing Punchlines Ideas
2. Be Specific:
Your mission statement is simple and specific that convey your message to your audience and they easily remember your mission. If your mission statement is Difficult so employee don`t remember and they are not on the same pivot point that your company has. So Make be specific and Easy to remember mission statement.
3. The mission statement should be Inspire customer.
Make your Mission Clear and inspirational. Whenever you start to write a mission statement just focus on that element that your mission should be inspiring and give encouragement to your employee to stay focus on your mission.
4. Keep it Short:
In Corporate companies, they wrote multiple pages of mission statements. but that not an ideal way to convey your message to your audience. Keep it short and simple when you write a restaurant mission statement. Try to concise if possible. For example: "Food With integrity" they convey a message into three words cooking and serving food into a short phrase.
So keep in your mind those four steps and here are some examples for your New restaurant business.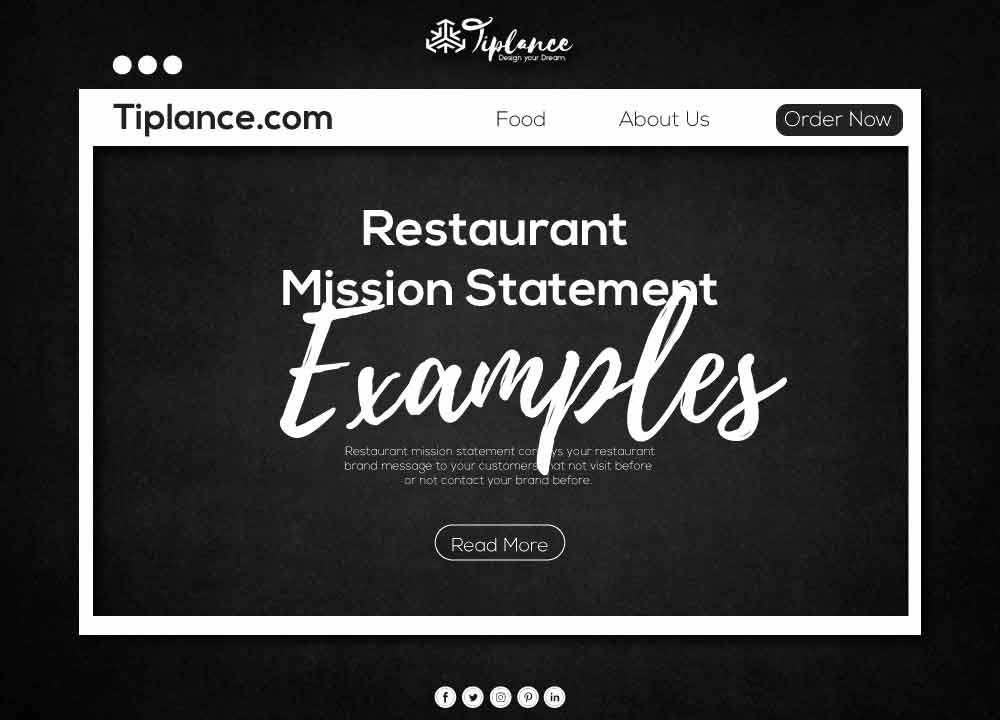 Restaurant Mission Statements
Mission Statement Example #1
Quality food Quickly Served with attractive, Clean Atmosphere in Reasonable priced
Example #2
Our Goal is To provide unpredictable taste in Outstanding price with a Welcoming, Lavish Atmosphere
Example #3
Explore The Better Food, its accessible to everyone
Example #4
Our mission is that our every Guest Leave Happy after taste our food.
Example #5
Accurate Service to Broad Customers with fastest and Satisfaction Food.
Example #6
Fresh Products in the Friendliest and Cleanest Environment with Quick Service.
Example #7
Through Teamwork, Communication, honesty, and hard work to Share Food That Win your heart.
Example #8
A restaurant with Clean mission to End The Hunger with Delicious taste
Example #9
Enrich lives, One person at a time
Example #10
Connecting People to tasty Food with Healthier Service
Example #11
One Pie at a Time to maintain Your Taste
Example #12
One Cup, One Service, One connection , One taste
Example #13
Inspired to better live with Exceptional Dining Experience
Example #14
Create memories with Heritage taste
Example #15
revolutionize food Revolutionize price
Example #16
Create an experience that's as unique as they are
Example #17
Quality Serve is our Passion
Example #18
Awesome Food Unforgettable time
Example #19
Run Business to make amazing Food
Example #20
Making healthy food in Affordable Price & Convenient
Some Final Thoughts:
Now you are easily writing a mission statement of a restaurant. if you have any query or need help related to Restaurant mission statement feel free to comment below or write an email at [email protected]