In the United States, breast cancer is the most common type of cancer in women. According to the American Cancer Society, about 1 in 8 women in the U.S. will develop breast cancer at some point in their lives So it Breast Cancer Awareness Month show your support with these Breast Cancer Awareness Slogans! This list includes pink ribbon slogans, as well as general breast cancer awareness slogans for October and beyond.
Use these Breast Cancer Slogans on Tees, Pink Ribbon Rings, Bumper Stickers and more to bring attention to this important topic! Let's unite to fight breast cancer and make a difference! Pick your favorite slogan below and help spread awareness for this worth cause!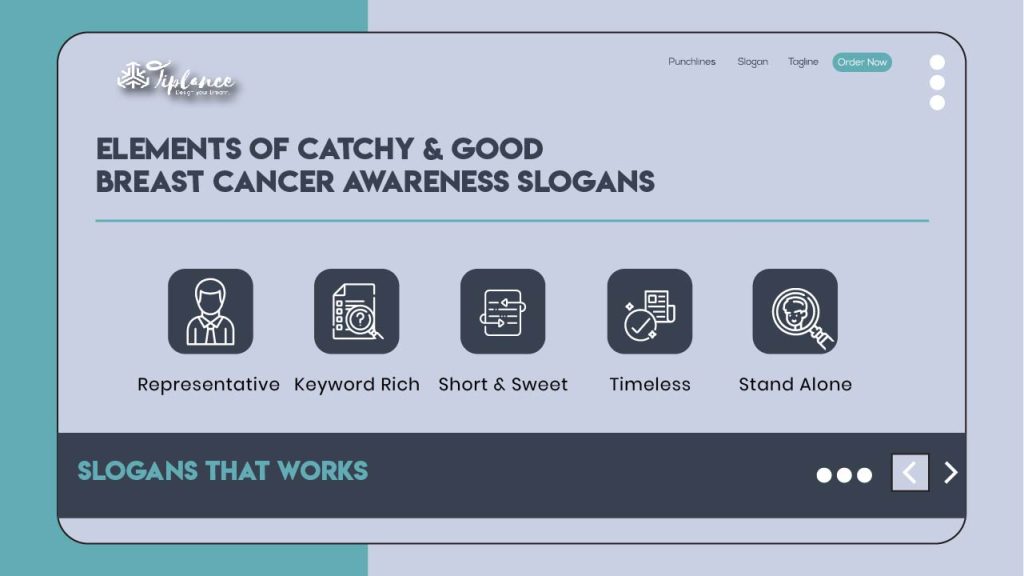 Important Factors to Write Breast Cancer Awareness Slogans
When it comes to writing breast cancer awareness slogans, there are a few key factors you can take to make sure your message is effective.
First, keep it simple. A slogan should be easy to remember and understand, so stick to one or two key points.
Second, make it personal. Your slogan should speak to the reader on a personal level, so that they feel connected to the message.
Third, use emotion. A powerful and emotional slogan will stick in the reader's mind and raise awareness of the issue at hand.
Fourth, be creative. Breast cancer is a serious issue, but your slogan doesn't have to be boring. Be creative and come up with something that will grab attention.
Fifth, use humor. A little bit of humor can go a long way in raising awareness for breast cancer.
Sixth, be positive. Your slogan should be hopeful and inspire others to take action. Finally, make sure your slogan is actionable. encourage others to donate, get screened, or take some other action to support the cause.
By following these steps, you can write an effective and impactful breast cancer awareness slogan.
Breast cancer slogans
Fight like a girl
Boobs: keep them healthy, don't just support them
Real men wear pink
Together we will win
Survival is my goal
Hope is my strategy
My battle, my choice
I'm a survivor, not a quitter
I am strong, I am fighting, I will win
Pray for a cure
"I will try again tomorrow"
Faith, hope, love: fight breast cancer with all you've got!
Breast cancer awareness: together we can make a difference
Early detection is key: do your monthly self-exams!
1 in 8 women will be diagnosed with breast cancer in their lifetime: know your risks!
Every day, thousands of women are fighting the good fight against breast cancer: you are not alone!
"Something to think about…What if there was a cure for breast cancer and no one knew?" -Anonymous
"The most important thing in illness is never to lose heart." -Nikolai Lenin
"There are no incurable diseases, only incurable patients." -Georges Canguilhem
"A positive attitude may not solve all your problems, but it will annoy enough people to make it worth the effort!" -Herm Albright
For more: 111+ Unique Slogans Related to Good Health Examples & Taglines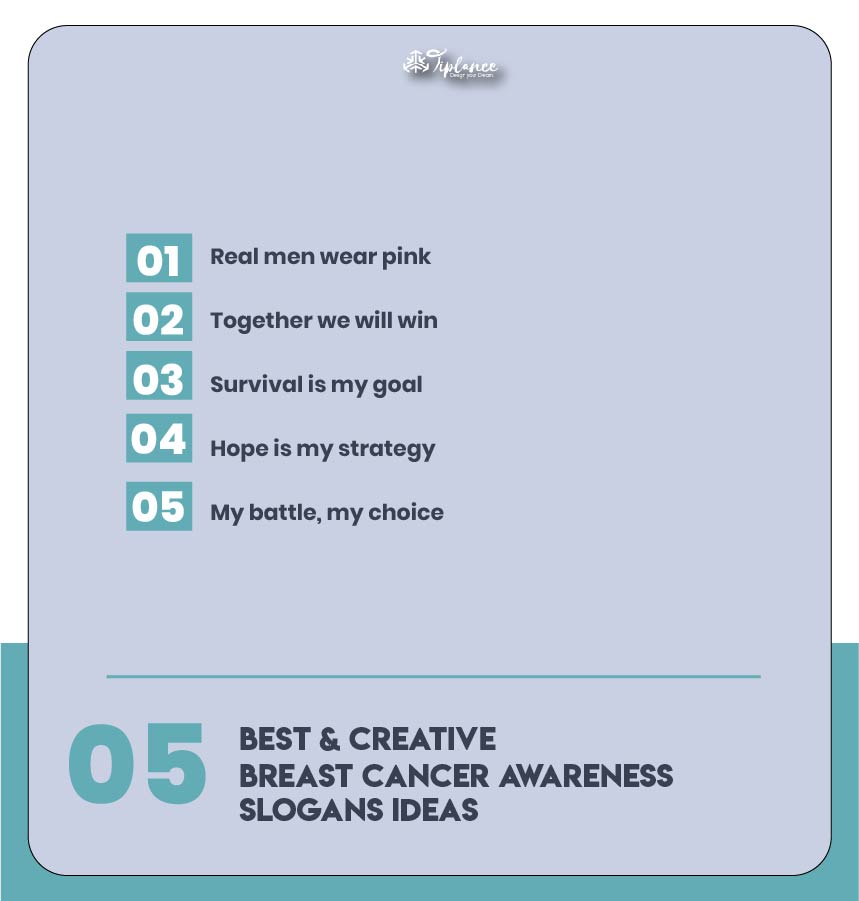 Breast cancer awareness month slogans
Real men wear pink.
Man up and fight breast cancer.
Boobs: check 'em regularly!
Save the tatas!
Feel your boobs so you can save your life
I heart boobies!
Brought to you by the letter B
Check your chest
Put a ribbon on it
Silence is deadly
You're not alone
Knowledge is power
early detection is key
get screened, save lives
be bold, be brave, be beautiful
think pink!
live strong
fight like a girl
boots and boobies – let's kick cancer's ass!
togel hari iniI Wear Pink for all the women who can't
For more: 111+ Catchy Iodine Slogans Taglines Ideas & Sample
Breast cancer taglines
Early detection is the best protection
mammograms save lives
get checked
breast cancer doesn't discriminate
i am the face of Breast Cancer
think pink
bust cancer
we can, i will
more than pink
warriors in Pink
time to end breast cancer
fear no more
end breast cancer now
be bold, be brave, be beautiful
strength in numbers
one day we will win
fight like a girl
Feel your boobies
Your support matters
attacked by cancer, defended by community
Stand as one against breast cancer
kindness matters
Care makes a difference
Compassion conquers all
show your support
Rally together against breast cancer
Educate and empower
Promote prevention
get involved today!"
For more: 101 Best Health & Wellness Business Name ideas
Breast cancer awareness Taglines
"Early detection is the best protection."
"Breast cancer doesn't discriminate."
"There's no shame in getting checked."
"I fight for _ ."
"Boobs are great, but let's not forget their purpose."
"Save the tatas!"
"Feel your boobs so you can detect a lump early."
"Be proactive about your breast health."
"This is what breast cancer looks like."
"Put your mammogram date in your calendar."
"#selfieforacause"
"My grandmother fought breast cancer, and I will too."
"#MoreThanPink"
October is Breast Cancer Awareness Month!"
"#BCAM"
"#endcancer"
"#cancerwarrior"
"#fuckcancer"
"Together we are stronger!"
For more: 121+ Catchy Hospital Names Ideas & Suggestion
Breast cancer slogan ideas
breast cancer awareness month is important
we need to supports those who are fighting
early detection is key
show your support by wearing pink
make a donations to support research
join a breast cancer walk or run
spread the word on social media
start a conversation about breast cancer
educate yourself and others on breast cancer risks
get screened regularly
support survivors
fight for a cure
hope for a future without breast cancer
remember those we've lost to breast cancer
unite against breast cancer
think pink for breast cancer awareness month
donate to support those affected by breast cancer
wear pink to show your support during October-breast cancer awareness month
"There's no finish line until we find a cure" – Breast Cancer Awareness Month slogan idea
" united we stand, divided we fall" – Breast Cancer Awareness Month slogan idea
Importance of Having a Breast Cancer Awareness Slogans
October is Breast Cancer Awareness Month, and organizations across the country are using Breast Cancer Awareness Slogans to help promote early detection and raise money for research.
Some of the most popular Breast Cancer Awareness Slogans include "Feel your Boobies!", "Save the Ta-tas!" and "Think Pink!". While these slogans may seem light-hearted, they actually serve a serious purpose.
By raising awareness of the importance of self-exams and early detection, they can help save lives. In addition, the money raised through Breast Cancer Awareness slogans month goes towards research that is working to find a cure for this deadly disease. So whether you are wearing a pink ribbon or sporting a catchy slogan, you are helping to make a difference in the fight against Breast Cancer Awareness Slogans.
Conclusion
I hope you found this blog helpful in brainstorming some Breast Cancer Awareness slogans. The month of October is a great time to show your support for those affected by breast cancer and to raise awareness for the disease. There are many different ways that you can get involved, and raising awareness through slogan ideas is one way to help out. If you have any more ideas or suggestions, please feel free to share them in the comments section below. Let's work together to make this year's Breast Cancer Awareness Month the best yet!